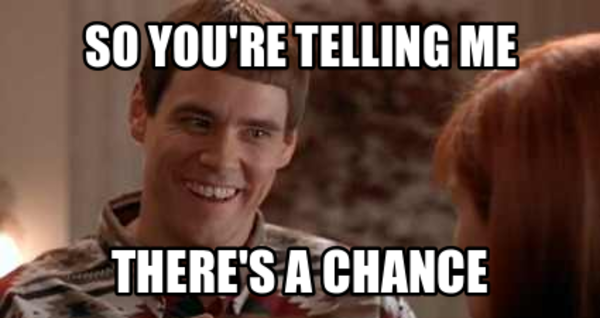 Two weeks ago the 'Cats fanbase was dejected after losing to a terrible MSU team via a blown handoff and allowing the Sparty QB to continue slithering for 8 yard runs throughout the contest. A few days after the 'Cats had vaulted to #8 in the rankings, the purple faithful was distraught and dreams of a CFP withered away. Or did they?
The 'Cats enter the weekend 6-1 with a date against OSU on Saturday in the B1G championship. We are heavy 20 point underdogs, pretty much in a similar spot to the 2018 champ game (believe we were 18 point dogs in that game, and despite a closer game than expected, OSU still covered :/).
Our chances for a W are slim, but it's pretty legit that we will have a shot on the field to win the damn conference. The shot is long in and of itself (ESPN gives us a 1% chance), but let's look at a scenario … what if we did win?
Caveat: I completely recognize that we have no business playing in the College Football Playoff and would likely get run off the field by Alabama. But the top 4 in the CFP has something sacred about it – it's such an exclusive club that it's an honor to even be considered. Many NU fans would rather play in a bowl against a beatable opponent and finish with our highest ranking in years. I'd rather make the CFP…mostly because it would be hilarious to be there.
Background: I used to be obsessed with the 538 CFP predictor, where they showed each team in contention for the CFP and odds to get there based on various scenarios. That predictor is since defunct and has been merged into ESPN's "Playoff Predictor" which is a poor man's version (layoffs at ESPN may have had something to do with it).
My dream was to find creative ways to get NU into the CFP, and my favorite year was in 2015 when it seemed like there were some routes to get there. This is the closest we've been since then. My purple bias aside, there is a path right now. It is an incredibly unlikely path, but if certain games break our way on Saturday we could get there. There are really three paths in my mind:
Path 1:
Bama beats Florida
ND beats Clemson
Cincy loses to Tulsa
NU beats OSU
This path would have the 'Cats jumping the winner of the Big 12 – but we would have a better win than either team and one less loss (though in fewer games). We would also need to stay ahead of the Pac 12 winner, if it is USC. I think this is the most realistic scenario for us to make the final four.
Path 2:
Bama beats Florida
ND beats Clemson
A&M loses to Tenn
NU beats OSU
This is a similar path, but swaps out a Cincy loss for an A&M loss to lowly Tennessee. All the same factors hold true about staying ahead of B12 and P12 winners. However, I do truly think a one loss B10 team with two top 15 wins would be ranked above the winners of those two conferences.
Path 3:
Bama beats Florida
Clemson beats ND
A&M loses to Tenn
Cincy loses to Tulsa
NU beats OSU
A Clemson win would put them and ND both in the final four, and Bama winning would sew up three spots. We would then be competing for that fourth spot with A&M, Cincy, P12 and B12 winners. If A&M and Cincy go down, I think we could get there.
Second Caveat: This is all assuming the committee looks at the teams in the mix through leveled eyes, which is an extremely flawed assumption. If NU were say Wisconsin or Michigan, one loss and a conference championship would make them a shoo-in for the final four. But we're not, we're Northwestern. Our name alone (plus a loss to a 2-5 team) knocks us down several pegs. The committee in the first two scenarios above could easily slot a 2 loss Clemson in ahead of us – let's be honest, Clemson is a much better team than the 'Cats. There's also a decent chance the B12 winner would stay ahead of us – the CFP would use the fact that we played fewer games than others as the excuse. But if the committee is truly factoring in the resume and placing importance on conference championships, then we have a slight chance.
Something to look out for tonight: Tonight's CFP ranking is important in that we need to stay ahead of USC for these scenarios to play out – we were one spot ahead of USC last night.
None of this matters if we lose to Ohio State. We truly are David versus Goliath – ESPN gives us a 9% chance at a victory. However, I'd encourage all 'Cats fans to take a beat and look at where we are right now. We're in our second B1G championship game in three years – playing for an outside chance at a NY6 bowl or even a playoff spot. This is extremely rare territory in the century-long history of the Northwestern football program. Enjoy it after a truly shitty 2020. Remember, it's an honor just to be considered.